---
---

Australia's unique driving conditions call for a different approach to shock absorber design. Invariably, vehicles are heavily loaded, fitted with accessories and driven on harsh Outback roads for prolonged periods.
When developing shock absorbers, Old Man Emu takes all these factors into consideration. This is reflected in the superb structural integrity of Nitrocharger shocks, along with the fact they are properly valved for the conditions they will be required to work under. Old Man Emu suspension systems have always focused on ride quality rather than ride height.
And rather than offering a single adjustable shock, the OME engineers have done all of the testing and tuning adjustments for you.
This experience in setting the most appropriate valving is what really sets the Nitrocharger apart from its competitors. OME engineers have extensive knowledge in this field as they specialize in nothing else but 4WD suspension systems. When developing a shock absorber, consideration is given to both original equipment and choice of springs.
While OME Nitrochargers will improve overall ride performance even when fitted with old stock Syncro springs, more substantial benefits can be achieved when fitted in conjunction with SCHWENK SPRINGS custom coil springs. Improved ride, load carrying characteristics, and wheel travel are all benefits of such a combination.
Used by 4 wheelers throughout the world, OME Nitrochargers set the standard in ride comfort over any terrain and simply outperform the competition.
---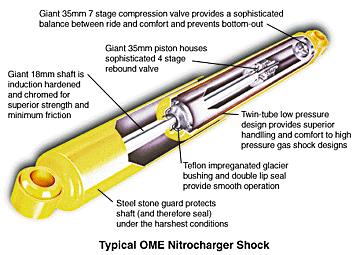 ---
---

---